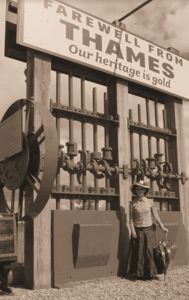 Thames Heritage Festival 2018

Thames has a rich and proud history in the early development of New Zealand, and the Thames Heritage Festival is a celebration of our extraordinary past.

Click here to enter an event for 2018
See the 1News story on the Goldfields 150th Anniversary
2017 events included:








An evening with Gilbert & Sullivan
Gemboree Gem Rock & Mineral Show
GOLDMINE EXPERIENCE
The Alchemy of 'Golden' Cheese
THE TREASURY TALKS
THAMES HOSPITAL PHOTOGRAPHIC DISPLAY
The Treasury Book Launch: True Tales of Thames
ST PATRICK'S CEILI
HISTORIC PLACES TO VISIT
The Treasury Photography Exhibition
THAMES SCHOOL OF MINES EVENING PRESENTATIONS
133rd Birthday Celebration service
HERITAGE FILM DAY- ANGEL and the BADMAN
ST. GEORGES HISTORIC CHURCH
Thames Goldrush Market
ST. JAMES HISTORIC CHURCH
THAMES SCHOOL OF MINES
Goldmine Experience Stamper Battery Opening
HISTORIC SHORTLAND WALK
Steampunk Festival









Plus many more.
Click here for full programme of the Heritage Festival.
Special thanks to our sponsors...