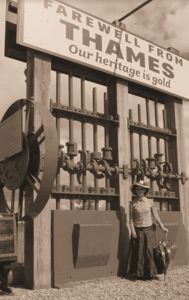 Thames Heritage Festival 2018

Thames has a rich and proud history in the early development of New Zealand, and the Thames Heritage Festival is a celebration of our extraordinary past.

Click here to enter an event for 2018
See the 1News story on the Goldfields 150th Anniversary
2017 events included:








The Comer Family Book Launch
Irish Ceilidh
Cafe Concert
THAMES SCHOOL OF MINES EVENING PRESENTATIONS
Read Bros. Hardware 150th Anniversary
AN EVENING WITH GILBERT & SULLIVAN
SMALL GAUGE RAILWAY at Grahamstown
Thames Jockey Club 150 Years
BELLA STREET PUMPHOUSE
Lunchtime Concert at St. Georges
CLASS OF '55
Goldmine Experience Stamper Battery Opening
DECORATED BICYCLE COMPETITION
Steampunk Festival
Thames Goldrush Market
HISTORIC SHORTLAND WALK
A Place at The Table - St. James' Union Church
Bella Street Pumphouse 75 Mile Poker Run
Celebrating Marriage 150 Years Ago
Movie 20,000 Leagues Under the Sea









Plus many more.
Click here for full programme of the Heritage Festival.
Special thanks to our sponsors...